Hotels.tv International Franchise
Hotels.tv International - Travel Franchise
Internet/home based business. Fastest growing Hotel Booking Agent Network in the World. Book for Individuals, Groups, Companies & Events.
 Watch Video
Available areas

UK, USA and Canada
Profile
Start Your Own Hotel Booking Business with Hotels.tv – anywhere in the world! 
Run your business locally or internationally, full time or as a side-hustle, from home or co-working space…  Become a hotel booking agent and work with amazing events and wonderful hotels.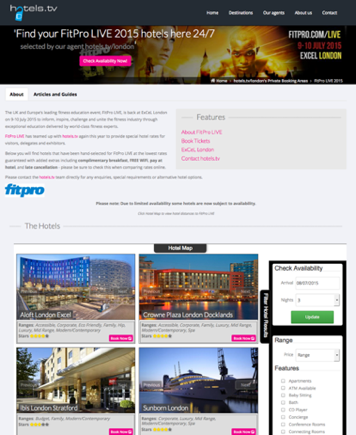 Hotels.tv specialise in working with events. Trade shows, exhibitions, weddings, sports tournaments and more can attract thousands of attendees. Many people, their families or colleagues need hotels and accommodation when attending the event.
You receive the technology, training and support in a complete turnkey business package to provide events with their own private booking website for their attendees. Selected hotels, negotiated rates and added value like upgrades, late checkouts and room extras are just a few of the benefits.
Hotels.tv rates are on average 10 to 40% lower than Booking.com & Expedia!
You earn every time a guest books and can generate 10 to 1,000+ bookings per event. More events = unlimited revenue. Plus, you get personal IATA travel benefits all year.
Affordable business start-up, low overheads, unlimited earning potential, flexible and we think you'll love doing it! We do.
Hotels.tv have Agents all over the world and now have limited number of opportunities available in the UK, USA and Canada.
Join the fastest growing hotel booking franchise in the world!
Videos
Hotels.tv is a hotel booking agency which offers a unique business opportunity to people wanting to start their own business.
Hotels.tv is a corporate hotel booking agency which offers a unique business opportunity to people to start their own business booking hotels for Groups and Events - MICE. Meetings. Incentives.Conventions.Exhibitions. Full training and a complete online booking system with unlimited private areas fo...